These are a collection of photos taken by Jack Milhaupt. Jack worked as a caretaker of the Lodge.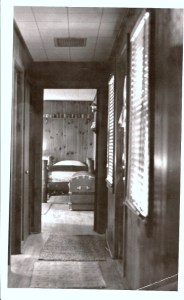 Looking in Bedroom from Hall
Looking down the hall in the apartment to my bedroom. There were two bedrooms in the apartment. The other I used as my workshop and darkroom. It is where I developed these pictures. The bed is one of the original log beds.
Bent Creek Lodge in the 70s